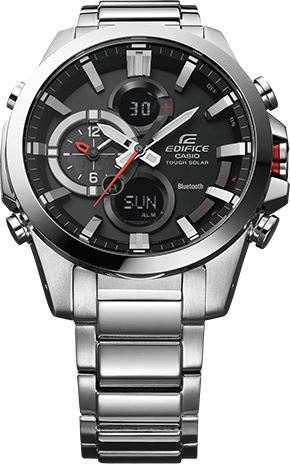 Casio Edifice Chronograph Bluetooth ECB-500D-1AER - RON - RIP
Spar 32%
Vores pris
2.449,00 kr
Vejl. pris
3.598,00 kr
Casio
Udsolgt
Uret bliver ikke længere produceret
Dette ur er produceret af Casio og tilhører deres elegante kollektion af armbåndsure, som hedder
Casio Edifice ure
. Vi er officiel forhandler af
Casio ure
. Dette er din garanti for, at du får et originalt ur, en officiel service samt en landsdækkende reklamationsret.
Detaljer
Autoriseret forhandler
Vi er autoriseret forhandler af dette mærke. Det betyder stor tryghed for dig som forbruger: vished for uret er ægte, samt en officiel service og garanti.
Require download of the CASIO WATCH+ app, more info
Solcelleenergi
En solcelle fungerer som energikilde til uret.
Indikator til batteriniveau
Indikatoren viser det nuværende batteriniveau.
Telefonfinder-funktion
Indstil dit ur, så du kan aktivere din smartphone. Denne vil afgive en lyd, som hjælper dig med at lokalisere din telefon.
Neon-display
Denne selvlysende belægning behøver kun kort tids eksponering af lys for at give en langvarig oplysende effekt i mørke.
Verdenstid
De største byer i verden er indprogrammeret i uret, så vælg den by, du befinder dig i/nærmest ved (i den samme tidszone), og uret viser dig herefter helt automatisk den rigtige tid for den pågældende tidszone. p>
Kronograf
Bruges til at måle et tidsinterval. Typisk konstrueret som mindre urskiver i urets midte. Det internationale ord er Chronograph.
Superilluminator
Med et enkelt tryk på en knap bliver dit display oplyst i en smart farve.
5 daglige alarmer
Alarmen anvender et lydsignal, som du indstiller til påmindelse om gentagende hændelser. Du kan også aktivere et timersignal, der markerer hver hele time. Denne model har fem uafhængige alarmer, som giver en god fleksibilitet, når det daglige hukommelsesbehov skal dækkes.
Datovisning
Den aktuelle dato vises på urskiven.
Automatisk kalender
Korrigerer automatisk hver måneds varighed og tager hensyn til skudår.
Mineralglas
Det slidstærke mineralglas beskytter mod ridser og stød.
Sikkerhedsmekanisme
Dette ur har en ekstra sikkerhedsmekanisme, der forhindrer, at låsen åbnes ved en fejl.
Vandbeskyttende: 100 meter (10 bar)
Klassificeret til 10 bar eller 100 meter. Det vil sige at uret kan benyttes når du svømmer. Bemærk dog at meterværdien (100) ikke er lig med tilladt dykkedybde. Værdien refererer til luftrykket som benyttes i testen for vandtæthed (ISO 2281), og simulerer trykpåvirkningen i stilstand. Ved aktivitet i vand øges trykpåvirkningen mærkbart, og derfor er dybdemeter klassificeringen i praksis lavere.
Kondens - Vigtigt!
Ved hurtige temperatursvingninger opstår et undertryk i uret, som kan forårsage at kondens opstår. Du vil se dugdråber under glasset hvis dette sker. Gå omgående til urmager for at åbne kassen og tørre uret. Fugtigheden forsvinder ikke selv selvom duggen forsvinder. Hvis dette ikke gøres, vil fugt lægge sig i urværket, og dette kan forårsage totalskade. Ingen ure er kondenssikre, selv om de er vandtætte. Kondens kan opstå hvis du går fra stærk kulde til høj varme, for eksempel fra vinterkulde til høj indendørs temperatur eller sauna. Kondens behøver altså ikke skyldes en fabrikationsfejl og dermed en reklamation.
Rustfri stållænke
En stållænke er for alle. Du kan være sikker på, at stållænken aldrig går af mode eller, at du bliver træt af den!
Du kan selv justere størrelsen på din lænke
Du kan tilkøbe vores Lænkeværktøj, så du selv kan justere størrelsen på din stållænke. Køber du Lænkeværktøjet sammen med uret, får du hele 67% rabat!

Nedenstående video viser, hvordan du nemt kan bruge værktøjet:
Bemærk! Hvis du skal tage mere end et led af, skal det gøres på begge sider af låsen. Skal du for eksempel fjerne 4 led, fjerner du 2 på hver side af låsen. Brug af værktøjet er på eget ansvar.
Levering
Hurtig levering til posthus, pakkeshop eller pakkeboks
Vi sender ordren til et udleveringssted tæt på dig.
Levering med omdeling til døren
Vi sender ordren direkte til den adresse, du vælger.
Specifikationer
Specifikationer

| | |
| --- | --- |
| Urkassefarve | Rød, sølvfarvet |
| Remtype | Rustfri stållænke |
| Farve på lænke/rem | Sølvfarvet |
| Lænkens/remmens bredde | 22 |
| Rem omkreds | 14-22 |
| Urskivefarve | Rød, Sort |
| Glastype | Mineral |
| Urværk | Anadigi |
| Datovisning | Nej |
| Vandbeskyttelse | 10 atm (Bad/Svømning) |
| Tykkelse | 14 |
| Diameter | 48 |
| Urkasse materiale | Rustfrit stål |
| Låstype | Foldelås |
| Køn | Herreur |
Størrelsesguide
Urets størrelse
For bedre at kunne forstå størrelsen på dette ur, har vi sammenlignet det med en dansk 5-krone. Billedet til venstre viser hvor meget af uret der dækkes af 5-krone mønten (som er 28,5 millimeter i diameter). Hvis du ønsker at se en oversigt over flere størrelser sammenlignet med en 5-krone mønt, så finder du den her


Hvordan måles urets størrelse?
Diameteren
Vi bruger udtrykket diameteren, men da ikke alle ure har cirkelformet urkasser, så er dia meteren reelt bredden målt fra venstre til højre. Bemærk at enkelte producenter inkluderer kronen (til at indstille uret) og knapperne når de måler bredden, men vi forsøger at standardisere alle urene ved ikke at medregne kronen som en del af bredden..



Tykkelsen
Tykkelsen - eller højden på uret i profil - angives ved at måle uret fra top til bund som illustreret nedenunder. Til sammenligning er en 5-krone mønt 2 millimeter tyk.
Man definerer normalt urene ud fra disse tal::
Tynd: 4-6 millimeter
Normal: 6-12 millimeter
Stort: 12-14 millimeter
Oversize: 14-18 millimeter
Vi har fundet disse alternativer til dig: